Accurate Service License
Hallo sobat Acis, Kembali lagi bersama kami Acis Indonesia. hari ini kita akan membahas mengenai Cara Mengaktifkan Accurate Service License.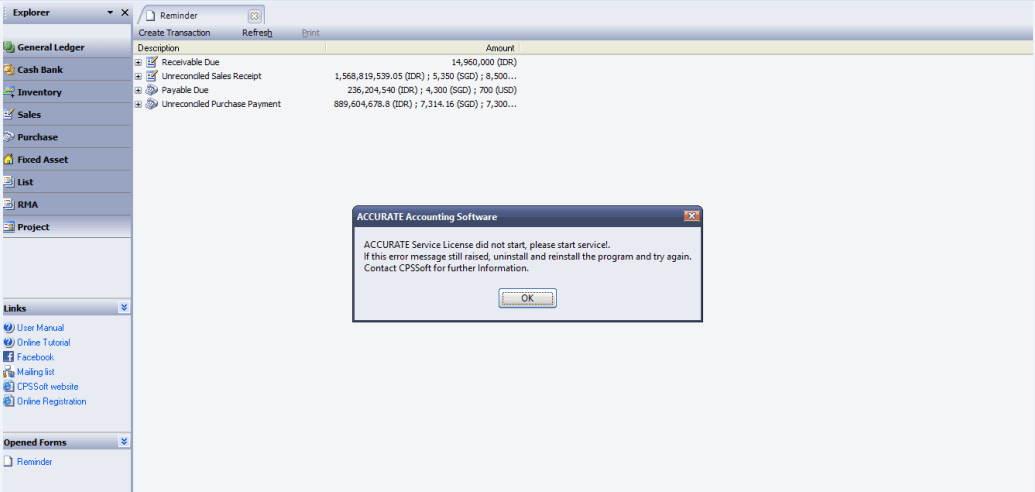 "Accurate Service license did not start, please start service!. if this error message still raised, uninstall and reinstall the program and try again. Contact CPSSoft for further information", error tersebut muncul pada saat baru mau menjalankan software akuntansi ACCURATE dan membuka database.
Error ini terjadi dikarenakan ACCURATE Service License yang ada di komputer lokal tidak dalam keadaan aktif untuk dapat membuka database di software akuntansi ACCURATE. Untuk dapat membuka ACCURATE, kita harus mengaktifkan kembali ACCURATE Service License tersebut secara manual.
Langkah-Langkah Mengaktifkan Accurate Service License
Berikut Langkah-Langkah untuk mengaktifkan Mengaktifkan Accurate Service License :
1. Search Services, klik sekali di ACCURATE Service License lalu klik Start, pastikan Starting Mode nya Automatic.

2. ACCURATE Service License memerlukan service "Windows Management Instrumentation", jadi pastikan juga di Services tsb Windows Management Instrumentation juga started.
Jika langkah-langkah diatas masih belum berhasil, kemungkinannya :
Ada Antivirus yang memblok Service tersebut. Jika di komputer bersangkutan ada Antivirus yang running, coba di Disable atau di Uninstall dulu, baru install Accurate ulang. Coba lagi jalankan Accurate Accounting Software.
Kemungkinan lain, kita baru saja menginstall Accurate Accounting Software dengan versi dibawah dari versi Accurate Accounting Software yang sudah ada terinstall di komputer tersebut. Sehingga pada saat kita mau menjalankan Accurate Acounting Software yang diatas versi yang barusan diinstall jadi muncul konfirmasi tersebut. Solusinya install ulang Accurate Accounting Software dengan versi yang mau kita gunakan.
Jika anda masih memiliki kendala dalam Mengaktifkan Accurate Service License kami menyediakan jasa Training Accurate, untuk informasi lebih lanjut anda bisa langsung klik link berikut : https://www.acisjateng.com/service/
Informasi Order Jasa Training Accurate
Demikian penjelasan mengenai Cara Mengaktifkan Accurate Service License. Kami ACIS Indonesia adalah konsultan penjualan resmi software akuntansi ACCURATE untuk seluruh Indonesia mulai dari Aceh, Padang, Jambi, Bengkulu, Medan, Palembang, Bangka Belitung, Serang, Jakarta, Bandung, Semarang, Surabaya, Bali, Pontianak, Balikpapan, Manado, Makasar sampai Jayapura.selain aplikasi akuntansi Acis indonesia pun memiliki produk excel accurate yang berkaitan dengan Accurate seperti Converter Excel to XML. Dapatkan info lebih lanjut dari kami dengan menghubungi email info@acisindonesia.com atau telp 021-29018652 dengan Tim Solution Expert kami yang siap membantu Anda.
Selain Software akuntansi dan payroll kami juga menyediakan jasa training dan maintenance untuk software akuntasi anda!
Baca Juga :
Langkah-Langkah Pemindahan License Accurate 4
Cara Cepat Memahami Software Accurate
Training Penggunaan Software Accurate